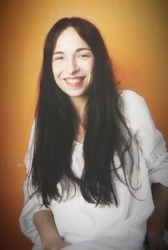 Nata a Giarre-Riposto (Catania); studia danza moderna. Nel 2003 dopo avere visto dei video di danza di Kazuo Ohno all'Archivio di butoh dell'Università di Bologna, decide di trasferirsi in Giappone per approfondire la conoscenza del butoh. Nel 2004 si laurea all'Università di Bologna in D.A.M.S storia della danza e della pantomima. Nel 2004 l'incontro con with Kazuo Ohno è determinante. Dal 2004 studia con Yoshito Ohno al Kazuo Ohno dance Studio collaborando con lui come assistente al suono, di palcoscenico e dietro le quinte. Nel 2006 vince una borsa di studio di danze supportata dall' Agenzia per gli Affari Culturali in Giappone. Nel 2009 studia la danza Balinese a Bali (Indonesia) con Agun Anom Putra, I Made Djimat e Ida Bagus Oka Wirjana. In Giappone riceve preziose lezioni dai seguenti danzatori: Tomiko Takai; Yukio Waguri, Mitsuyo Uesugi , Kayo Mikami,Seisaku. Lascia il Giappone nel 2010 e si stabilisce a Berlino.



Performances

2005 "Frida Kahlo Bara to Botan", supervisionata da Yoshito Ohno presso il Kazuo Ohno Dance Studio, al Yokohama Sankeien Garden con Michiyuki Kato, Yokohama.

2007 " Setsugekka" presso i Teatri di Vita con Yoshito Ohno, Bologna.

2007 " Setsugekka" con Yoshito Ohno nel Kazuo Ohno Dessin Festival a Kushiro, Hokkaido.

2008 " Kawaki- Sete" un assolo supervisionato da Yoshito Ohno presso il Kazuo Ohno Dance Studio, a Yokohama, al Session House Theater (Tokyo)2009, presso l'Accademia d'Arte Drammatica Paolo Grassi, al Milano Danza Festival, Milano 2009.

2010 "Seppun-Bacio" un primo progetto indipendente presentato al Terpsichore Theatre, Tokyo .

2010 " Shirokurochan" duo con Motoya Kondo alla Biennale di Venezia, Venezia.

2010 " Frida Kahlo: Rose and Button" diretto da Motoya Kondo al teatro Brotfabrik, Berlino.