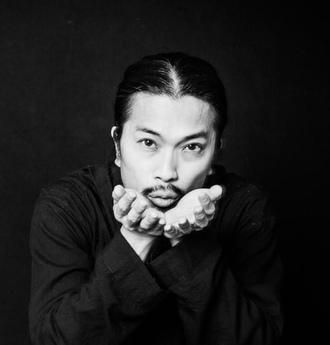 Nato a Nagoya. Ha studiato Economia all'Università Keio a Tokyo dove ha approfondito ricerche sulla mitologia e le culture dei native Australiani. L'oggetto di studio non era spiegare il mito ma sperimentarlo nel suo significato. Dal 2006 trovando temi comuni nel butoh ha studiato con Yoshito Ohno, figlio di Kazuo Ohno e lavorato come suo assistente. Nel 2008 ha anche studiato teatro Noh; e nel 2009 danza tradizionale Balinese a Bali (Indonesia) con Agun Anom Putra, I Made Djimat, e Ida Bagus Oka Wirjana. In Giappone ha ricevuto preziose lezioni dai workshop dei seguenti danzatori: YukioWaguri; Torifune.

Performances

2008 "Hozuki" nella compagnia Torifune Butoh Sha al New National Theater, Tokyo

2009 "Kazutoki Umezu KIKI BAND ALCHEMIC TOUR 2009" with Yoshito Ohno, in Yokohama 7th Avenue4

2010 "EGG COSMOS" danzato e diretto da Motoya Kondo, al Teatro Terpsichore Theatre, Tokyo.

2010 " Shrokurochan"duo con Tiziana Longo in Venezia Biennale Festival, Venezia.

2010 Regìa per " Frida Kahlo: Rose and Button" con Tiziana Longo al Teatro Brotfabrik , Berlino.